Features of a fingertip pulse oximeter
Features of a fingertip pulse oximeter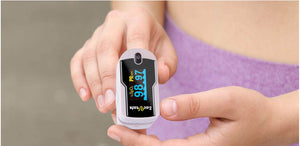 Basic features of a pulse oximeter
Blood Oxygen Saturation (SpO2)
Your SpO2 reading is a measure of the amount of oxygen in your blood. According to Mayo Clinic, an SpO2 reading of 95% or more is generally considered to be a normal blood oxygen level*. A reading of 94% or less (at sea level) suggests that your blood oxygen saturation level is low. People who live at high altitudes may display lower SpO2 readings.
Pulse Rate (PR)
Your PR reading is a measure of the number of times your heart contracts per minute. The normal pulse rate values for adults typically range from 60-100 bpm (beats per minute). In general, a lower heart rate at rest implies more efficient heart function and better cardiovascular fitness.  
Pulse Bar Graph
Pulse bar graph is a visual representation of your pulse beat. It is a useful feature used to determine the reliability of a reading. The height of the pulse bar graph correlates to pulse strength. In general, the height of the pulse bar graph should be at least 30% when a reading is taken.
Extra features of a pulse oximeter
Plethysmograph
Plethysmograph is an SpO2 waveform. It indicates the amount of blood flow detected by the pulse oximeter. Each wave in the plethysmograph corresponds to a heartbeat and the wave amplitude corresponds to the amount of blood detected by the pulse oximeter. The pulse oximeter is optimized when the height of the wave amplitude is consistent throughout. This is the best time to take a reading.
Alarm
The alarm feature allows user to define a range for the SpO2 and PR parameters. The alarm will trigger when SpO2 or PR reading exceeds the defined range.
Choosing Your Model
Below is an overview of each model to help you choose the pulse oximeter that best fits your preferences and needs.
---
*Used with permission of Mayo Foundation for Medical Education and Research, all rights reserved.
Ready to own a pulse oximeter?
Shop with confidence from our pulse oximeter selection: https://zacurate.com/collections/pulse-oximeters. Use coupon code SPO2 during checkout and receive 10% off your order.